Evolution Dopen Mic 12/16 (Featuring WAQIAH)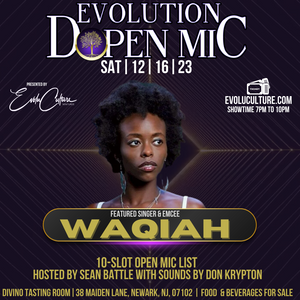 Evolution Dopen Mic 12/16 (Featuring WAQIAH)
Regular price
Sale price
$10.00
HAPPY HOLIDAYS FROM EVOLUCULTURE
Saturday December 16th is the final Evolution Dopen Mic of the year, with a return / debut as our headliner.
WAQIAH  for the fifth time in EvoluCulture overall. Peep her latest EP, UNFINISHED BUSINESS for an idea of how the songstress and emcee is coming:https://open.spotify.com/album/2fuBQuHCttl3HFDB33bVCI?si=vC1k_V1TRsyFR837JUbGeQ
The show includes a 10-Slot Open Mic List for poets, singers, emcees and other performing artists. sign ups are First come, first served, and only at the door on day of show.
THOSE USING TRACKS WHEN PERFORMING: Please email dopenmictracks@gmail.com with "[Dopen Mic Track] NameOfArtist—NameOfTrack" in subject line by Friday 12/15, 11:59PM. Tracks given after that time will not be played.
Also—INSTRUMENTALS WITH OR WITHOUT ADLIBS AND HOOKS ONLY. Playback tracks (singing/rapping/reciting over vocals) are prohibited.Failure to follow either guideline means You will perform acapella or forfeit your spot.

The show will also include:
* The EvoluGame, where volunteers come up and compete for a prize.
* Food and beverages for sale. Check out the menu, support the venue.
* Selected EvoluCulture Merchandise for sale.
* Poet & Author Sean Battle (CEO and Founder) as Host.
* Don Krypton (General Manager) on the ones and twos. Check above for guidelines on instrumentals.
ABOUT THE SHOW

Evolution Dopen Mic is the flagship show of EvoluCulture Ventures, and the 2nd longest running active open mic event in Newark, NJ. It is currently held on the third Saturday of each month during a 9-month season at Divino Tasting Room (28 Maiden Lane, Newark, NJ, 07102).
ABOUT THE ORGANIZATION
Born and Based in Newark, NJ, EvoluCulture Ventures aims to hold space for artists and art lovers in the name of personal and communal growth. Programming includes open mics, showcases, workshops, art exhibitions, mental health check-in sessions and more. The name comes in part from a quote by WWE Superstar, Triple H: "In life, you either adapt, or your perish; that is evolution." 
Similar products
Customers who viewed this item also viewed